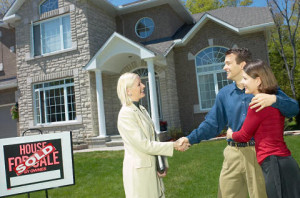 When you decide that you either want to buy a home or sell your current home then it's a good idea to have a real estate agent represent you. It is not that you can not sell or buy without them but because they have a great amount of knowledge of all the laws and regulations involved in real estate and plus they are familiar with all the paperwork that is required for the process. Would you represent yourself in the court of law? Then when it comes to real estate, why would you sell or buy your home without the right representation?

As soon as you announce that you either want to sell your home or buy one you will be surprised by how many real estate agents would like to represent you. You can start by asking friends or family who may know of an agent that is really good.

If your friends or family don't know of any good agents then you can choose a real estate agency and ask the agency to recommend a couple of their best agents. Make sure that you choose a real estate agent that practices real estate as their full-time job. Because a full-time agent spends all of his or her time dedicated to real estate and is much more knowledgeable then one who does it as a side gig. Think of it this way, would you go have surgery done by a doctor who practices medicine as a side gig and his true full-time passion is flying and being a pilot.


You also want to consider using an agent that is a Realtor, because of the fact that they belong to the National Association of Realtors and they must abide by a strict Code of Ethics. Besides the strict code of ethic rules, Realtors also have access to Multiple Listing Services (MLS).

Avoid choosing an agent that is a dual agent. That means that the same agent is representing both the seller and the buyer. This can create a very complicated situation and hard for the same person to represent both sides equally.

Choose an Agent that deals with homes in your criteria. For example, if you are looking for a luxury home then its best to find an agent that specializes in luxury homes. If your looking for a fixer upper then its good to find an agent who deal with those type of homes. Regardless if you are selling or buying its good to have an agent that specializes in the type of home you have or want.

It is important to chose an agent that listens to your needs and takes the time to explain things that you may not understand. Its important to find an agent that you can get along with.

Choose an agent that is willing to work with you according to your schedule. If you can only be available on Wednesday then you want an agent that is available on that day that you are available. If you get an agent that is not willing to work with you then find yourself one that will.

Lastly, you want to choose an agent that will be able to do more than one thing for you. For example, if you need help with coordinating a home inspection, finding a lender, or even locating a real estate attorneys to help you with legal matter.

The following are several questions you should ask of the agent.

Do you work full time? It is better if you have an agent that works full time because they have a better sense of the market and financing considerations and laws. A part time agent, may be good at it too but they can not provide that full time attention.
How long have you been in the real estate business? Its important to pick an agent who has several years of experience because the real estate field is one that has a lot of turn around because of the fact that it is not easy to sell real estate.
How many homes have you listed in the past year? How many homes have you sold in the last 3 months?
Have you ever had any complaints from your clients?
Can you give me name and numbers of your last few clients for references?
How often will I hear from you?

Now that you have read the importance of selecting the right agent, let us show you what a good agent is suppose to be like. Since we understand what an important role the agent plays in helping you find or sell your property, we have made sure that you get the best of the best agents all the time. Your search stops with Home-Pedia. Let our great agents take care of your real estate needs.