Sebastian A. Nasher

Qualifications: I began my Real Estate career in June of 2001. At the time I was only 21 years old but I had already discovered that Real Estate was my passion, and was an in-fill developer. As an in-fill developer I built many residential properties from ground up in Artesia, Orange County, and Oceanside. Throughout the years while I was developing these residential properties, I was also purchasing and selling Real Estate. I also developed commercial properties in Texas. I am most qualified to help you with your sale or purchase of real estate because I have about 13 years of experience in not just selling and buying but I am also a successful business man. With all my experience and knowledge I can help guide you towards a successful real estate transaction. I am not just your ordinary real estate agent that only knows how to sell and buy real estate. After all I have built homes from ground up so I am very well aware of everything that goes into a home. That being said, I can address a lot more of your concerns than an ordinary real estate agent can. Who would you want representing you? An ordinary agent or an extraordinary agent that not only sells and buys homes but has built them.
Philosophy
When I first founded Home-Pedia Realty, I wanted to create an atmosphere where it was mainly based on honesty, hard work, accountability, and "go getter" attitudes. I wanted to create one place that you can go to take care of all your real estate needs in regards to buying and selling real estate.
There are many real estate companies out there and what makes Home-Pedia Realty so different from the others is my personal experiences with Real Estate Agents. During my years of developing I came across quite a few bad agents, some that were lazy, others that were not attentive enough to my needs, and others who just did not care. From that experience, I vowed that I will have nothing but the best agents work for my company so that they can give the best to my clients. So rest assure that your needs will be handled with the utmost care and attentiveness. With Home-Pedia there is a personal touch of honesty, dedication, hard work, and attentiveness towards our clients that I personally oversee. That being said, there is no such thing as a wrong time to get a hold of us if you need us. We are there to answer any of your questions or concerns at any time of day or night. You will always receive a person who is ready and willing to take care of your needs.
Our goal is to keep you satisfied and meet or exceed all of your needs. With Home-Pedia Realty, you will never have to worry about dealing with unprofessional people that do not care about you. As you work with us, you will see the action behind the words. It will be our pleasure to work with you.
Rahida Nomair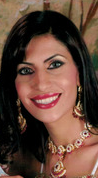 I graduated from California State University Northridge with a Bachelors degree and I have been in Real Estate since 2008.  The most important part of real estate for me is taking care of my clients.  It is very important that I make sure that I understand and listen to my clients needs and wants because that is the very key to not only a successful transaction but most importantly a happy and satisfied client. I am very kind and sweet person who truly cares about my clients and their best interests. I'm not a pushy sales agent who wants to make a quick sale. As you work with me you will see, understand, and experience how it feels to work with someone who not only is very knowledgeable about today's real estate market but who also takes every step to protect and care for you as my client. I look forward to working with you.